Books
The Devil Wears Prada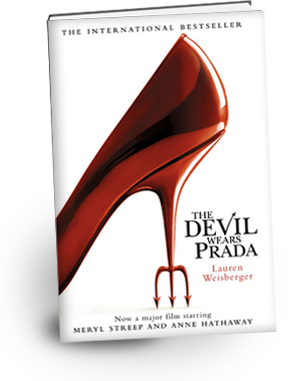 The light hadn't even officially turned green at the intersection of 17th and Broadway before an army of overconfident yellow cabs roared past the tiny deathtrap I was attempting to navigate around the city streets. Clutch, gas, shift (neutral to first? Or first to second?), release clutch, I repeated over and over in my head, the mantra offering little comfort and even less direction amid the screeching midday traffic. The little car bucked wildly twice before it lurched forward through the intersection. My heart flip-flopped in my chest. Without warning, the lurching evened out and I began to pick up speed. Lots of speed. I glanced down to confirm visually that I was only in second gear, but the rear end of a cab loomed so large in the wind- shield that I could do nothing but jam my foot on the brake pedal so hard that my heel snapped off. Shit! Another pair of seven-hundred dollar shoes sacrificed to my complete and utter lack of grace under pressure: this clocked in as my third such breakage this month. It was almost a relief when the car stalled (I'd obviously forgotten to press the clutch when attempting to brake for my life). I had a few seconds— peaceful seconds if one could overlook the angry honking and varied forms of the word "fuck" being hurled at me from all directions—to pull off my Manolos and toss them into the passenger seat. There was nowhere to wipe my sweaty hands except for the suede Gucci pants that hugged my thighs and hips so tightly they'd both begun to tingle within minutes of my securing the final button. My fingers left wet streaks across the supple suede that swathed the tops of my now numb thighs. Attempting to drive this $84,000 stick-shift convertible through the obstacle-fraught streets of midtown at lunchtime pretty much demanded that I smoke a cigarette.
"Fuckin' move, lady!" hollered a swarthy driver whose chest hair threatened to overtake the wife-beater he wore. "What do you think this is? Fuckin' drivin' school? Get outta the way!"
I raised a shaking hand to give him the finger and then turned my attention to the business at hand: getting nicotine coursing through my veins as quickly as possible. My hands were moist again with sweat, evidenced by the matches that kept slipping to the floor. The light turned green just as I managed to touch the fire to the end of the cigarette, and I was forced to leave it hanging between my lips as I negotiated the intricacies of clutch, gas, shift (neutral to first? Or first to second?), release clutch, the smoke wafting in and out of my mouth with each and every breath. It was another three blocks before the car moved smoothly enough for me to remove the cigarette, but it was already too late: the precariously long line of spent ash had found its way directly to the sweat stain on the pants. Awesome. But before I could consider that, counting the Manolos, I'd wrecked $3,100 worth of merchandise in under three minutes, my cell phone bleated loudly. And as if the very essence of life itself didn't suck enough at that particular moment, the caller ID confirmed my worst fear: it was Her. Miranda Priestly. My boss.