Books
Chasing Harry Winston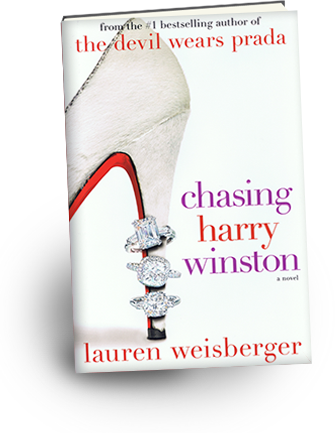 When Leigh's doorbell rang unexpectedly at nine on a Monday night, she did not think, Gee, I wonder who that could be. She thought, Shit. Go away. Were there people who actually welcomed unannounced visitors when they just stopped by to "say hello" or "check in"? Recluses, probably. Or those friendly Midwestern folks she'd seen depicted in Big Love but had never actually met—yes, they probably didn't mind. But this! This was an affront. Monday nights were sacred and completely offlimits to the rest of the world, a time of No Human Contact when Leigh could veg out in sweats and watch episode after beautiful TiVo'd episode of Project Runway. It was her only time alone all week, and after some intensive training on her part, her friends, her family, and her boyfriend, Russell, finally abided by it.
The girls had stopped asking for Monday-night plans at the end of the nineties; Russell, who in the beginning of their relationship had openly balked, now quietly contained his resentment (and in football season relished having his own Monday nights free); her mother struggled through one night a week without picking up the phone to call, finally accepting after all these years that she wouldn't hear from Leigh until Tuesday morning no matter how many times she hit Redial. Even Leigh's publisher knew better than to assign her Mondaynight reading . . . or, god forbid, knew not to log an interrupting phone call. Which is precisely why it was so incredible that her doorbell had just rung—incredible and panic-inducing.
Figuring it was her super, there to change the air-conditioning filter; or one of the delivery guys from Hot Enchiladas, leaving a menu; or, most likely of all, someone just confusing her door with one of her neighbors', she hit Mute on the TV remote and did not move a muscle. She cocked her head to the side like a Labrador, straining for any confirmation that the intruder had left, but the only thing she heard was the dull, constant thudding from above. Suffering from what her old shrink called "noise sensitivity" and everyone else described as "fucking neurotic," Leigh had, of course, thoroughly scoped out her upstairs neighbor before signing over her life savings: The apartment might have been the most perfect she'd seen in a year and a half of looking, but she hadn't wanted to take any chances.
Leigh had asked Adriana for the scoop on the woman above her, in apartment 17D, but her friend had just pursed her pouty lips and shrugged. No matter that Adriana had lived in the building's full-floor penthouse apartment from the day her parents had moved from São Paulo to New York nearly two decades before; she had completely embraced…